It's been an eventful few months for CGU. Following our successful launch at the end of last year, we've seen significant investment in the project by Binance Smart Chain's $1 billion fund. We appointed a new Global Workforce Operations Lead, Sam Brown, to help provide structure and leadership for our scholars. And, along the way, we've secured partnerships with multiple play and earn and metaverse projects including MetaGods and Ignite Tournaments, as well as onboarding thousands of new scholars into highly anticipated games such as  Samurai Legends and Aavegotchi.
‍As the CGU ecosystem grows and revenues increase, we're thrilled to announce that it's time to launch staking for CGU holders!
What is staking? 
Cryptocurrency staking allows token holders to earn from their crypto, often while helping to secure a blockchain network or provide other services to a project. Blockchain and DeFi projects all generate revenues in different ways. These can be distributed to users who stake their tokens in a crypto platform or smart contract.
‍When tokens are staked, they remain in the full control of the owner. However, they may be locked for a period of time, during which they will receive rewards but it will not be possible to move or sell them.
How does staking work for CGU? 
CGU token holders deposit or lock their tokens in a smart contract, which acts as a kind of vault. The CGU ecosystem generates revenues from gamers earning income in different P2E and metaverse titles, as well as various other activities. These revenues are used to buy CGU tokens from the open market, increasing demand and helping to support the price.
The CGU purchased are then distributed to holders who stake their tokens in the CGU smart contract. Unlike many other platforms, CGU allows holders to earn proportionally more by committing to locking their tokens for a longer period of time. 
‍
Staking information
There are two ways to stake your CGU, enabling you to earn from two different types of pool:
CGU staking. This is a single-sided pool. You simply stake your CGU for the amount of time you want to commit your tokens, and receive weekly rewards.

CGU/USDT liquidity pool (LP). More advanced users can supply liquidity in the form of CGU and USDT tokens to PancakeSwap, a decentralised exchange on Binance Smart Chain. They can stake their LP tokens (a voucher for the funds they supplied) and receive CGU rewards.

Lets take a look at this example:
Alice has 200 CGU tokens. She deposits these in the CGU pool, without committing to locking the tokens for any period of time (meaning she can withdraw her tokens immediately whenever she wants). Because there is no lock-up, Alice's tokens are treated with the standard multiplier of 1x.
Bob has 100 CGU. He believes in the long-term future of CGU and believes the token price will rise over time, so he decides to lock his tokens for the maximum period of two years. Bob's tokens will be subject to a 2x multiplier, meaning his 100 CGU will be treated as 200 CGU. 
Alice and Bob receive the same weekly rewards, even though Bob only has half the number of tokens Alice does.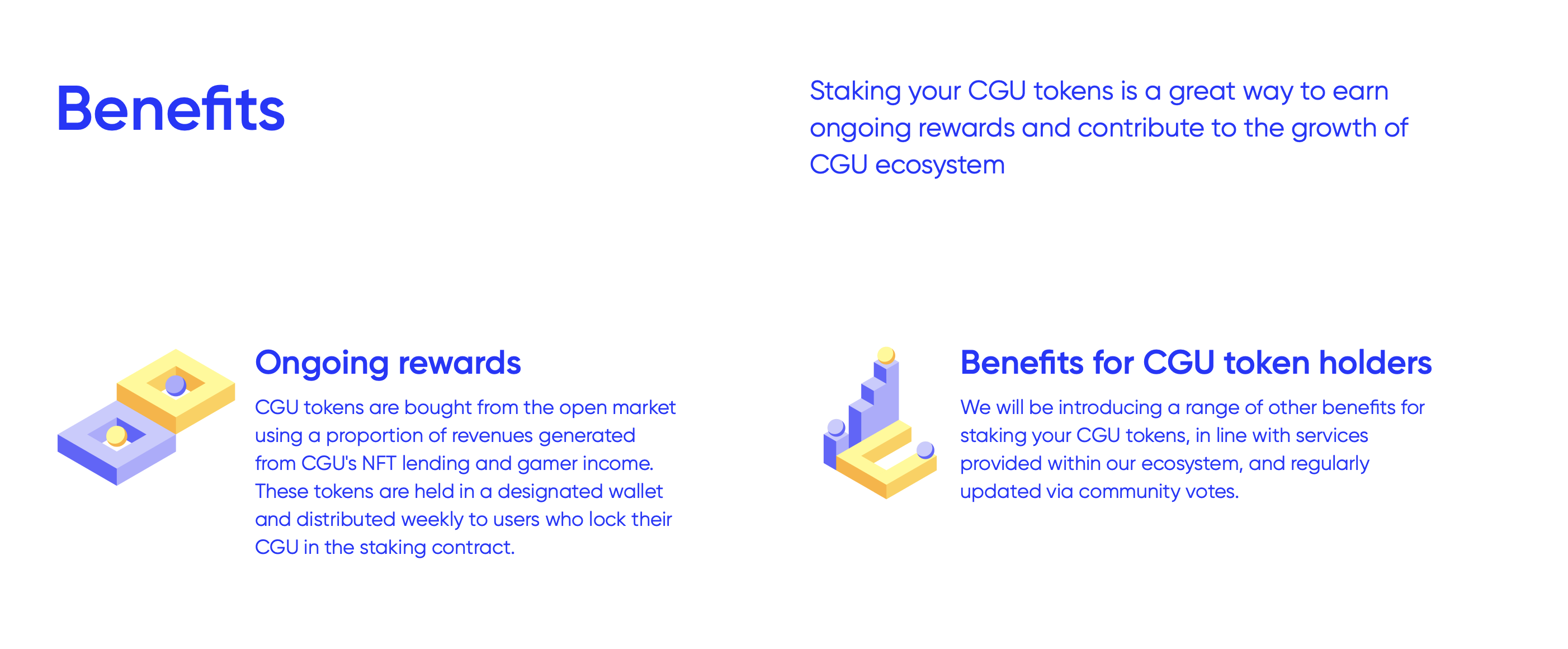 Earn ongoing rewards and contribute to the growth of the CGU ecosystem
Start staking now!
Start staking now by visiting https://staking.cgu.io/. Staking is the first major step towards a full DAO model for CGU, which will enable community members to vote on key decisions about the management and future of the project.
Stay tuned for further updates about the CGU development.